The wine farmers of Charente demonstrated in front of the BNIC offices in Cognac on June 28th. One imagines a crowd in front of the building while the BNIC people hide inside, some standing on the balcony and have Summit Cocktails in the sun.. see image below.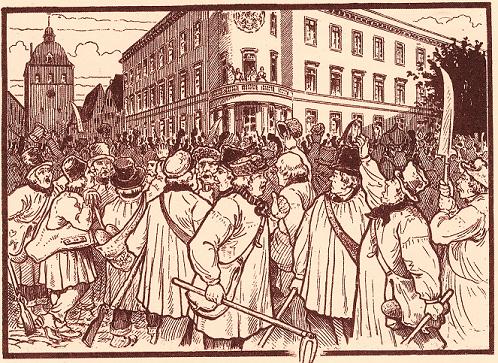 But that is probably not how it looked like and the guys from the BNIC offices should even understand the farmer's concerns.
Before getting more into it: If you want to know how the Cognac business with its players of farmers and traders work, have a look at this article.
Why are the farmers not d'accord?
It's all about the affectation parcellaire: Parcel assignment. It's an engagement of the winegrower to make identified products on parts of his vineyard.
Cognac (and Pineau des Charentes) is limited by quotas because it's an AOC (and no reasonable producer want to change this). European laws impose AOC products to be declared on a parcel assignment.
Why?
In Charente, the grape variety (Ugni Blanc) can produce : Cognac, Pineau des Charentes, wine, grape juice and all other products from white wine and particularly… brandy!
Cognac production quota is set, each year, by a formula design by representative persons of cognac houses and winegrowers: the BNIC committee.
For 2010, it's set approximately to 90 hectolitres of wine per hectare. But, Ugni Blanc vineyards can easily produce up to 150 or 200 hl/ha! Then, what can we do with this additional wine? Naturally, this wine can't be sold at "cognac wine" price: in fact, it's a low price product compared to cognac wine. So, if no disposition is taken, it can be used to make low cost brandy which can directly compete with cognac!
The affectation parcellaire says: Okay, you can produce all you want, including Brandies, but you have to assign part of your vineyard for each product to limit interactions between AOC and non-AOC production.
So trading houses don't "play the game" when they don't clearly indicate quantities they need and especially regarding the price they will pay.
Source: www.sudouest.fr and comment of our readers