The Louis Royer XO is basically a blend of Grande Champagne eaux-de-vie, between 15 year old Cognacs and older.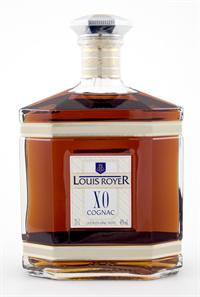 Tasting notes of Louis Royer XO Cognac:

The colour: amber, gold
On the nose: Dried and fresh fruit, deep and fresh aromas. Delicate honey fragrance, apricot
The taste: long, steady and mellow, nuts, almonds and some fruits. Really round and hints of rancio – complex and balanced at the same time
The finish: long, steady
The crus: most of the eaux-de-vie come from Grande Champagne, some Petite Champagne
Age: not clear, but old.
The price of the bottle is at about $100 or €130 in Europe


Louis Royer does not own vineyards, the eaux-de-vie are bought from farmers. Lont-term contracts guarantee a steady quality and quantity. Like so many other bigger Maison de négoce, Louis Royer tastes the different eaux-de-vie, and executres a macro-distillation before actually starting the whole process. A testing.
In 1853 Louis Royer founded the trading company after being the Cellar Master of Delamain for 5 years. At the same time, Louis was also a great apiculturist. In 1989 Louis Royer was bought by Suntory.
Today, the family is still involved in the Cognac business. Jérôme Royer currently holds the position of Director of Acquisition. His father, André Royer still is the the Honorary Chairman of the company. Family tradition in Charente – not rare but it's getting more and more dominated by international cooperations.
XO Louis Royer received an award in 2003, Médaille d'Or 2003, International Review Spirits Competition. In 2010 the XO was succesful again, in San Francisco: Gold Medal 2010. Its older brother Louis Royer Cognac Extra Grande Champagne, also won a Gold Medal.
See the list of the other Medals and results of the spirits competition here