About the house of Croizet, article and a great documentary film (see below, three parts) explaining the Cognac business and production process in general.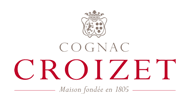 The story of Croizet begins  in 1805. Léon Croizet, a member of a family of vineyard owners established in Grande Champagne since the 16th Century, had the plan to create his own Cognac House. At that time there were around 20 other established houses competing in the region.
Working hard, Léon (to Napoleon I's High Command) founded the company of Croizet.
In 1871, his grandson, Benjamin Léon Croizet registered the name as a trademark and started increasing and developing the business. He succeeded in exporting Croizet Cognac around the world.
Benjamin Léon created a high-quality product and also played a certain role in the creation of the Appellation Controllé de Cognac in 1909. Benjamin Léon Croizet received many awards for the Croizet Cognacs, e.g. at the Universal Exhibitions of 1878 and 1900.
At the end of the 19th Century, the disease Phylloxera hits the Charentais vineyards but Benjamin refused to give up the estate… so he started planting vines from the US, built stone walls around small vineyards to protect the plants.
His method was adopted and copied by many other vignerons and farmers in the region of Cognac. In recognition of his efforts and methods, B. Léon Croizet was awarded in 1883 the Légion d'Honneur by the President.
When Léonie Croizet married in 1892, a collection of priceless eaux-de-vie fell in the hands of the family company.
Cognac Croizet was amongst three other Houses that were allowed to continue selling Vintage cognacs in 1963.
And today, Cognac Croizet has changed. The company is still based in St Même les Carrières but the original family has sold the company to Russian Wine Trust. One will see whether the dynamism and innovation, the tradition of the brand, and the will of the Léon will remain in the heart of this enterprise.
Today the company belongs to Russian investors, read here more about it.
Croizet offers a range of different Cognacs:

Croizet VS
Croizet VSOP
Croizet XO
Croizet EXTRA
Here, finally, you may have a look at this video in three parts: About Cognac, the town, the production and of course about Croizet itself.
Part 1 of the video

Part 2 of the video
Part 3 of the video