Wow, these guys must be very happy. They are holding a gigantic 25 litre Bache Gabrielsen XO bottle in their hands. It somehow reminds me of the elephant carrying a huge Cognac bottle through the jungle, see here.
Extremly limited edition: There are only 6 of them, one bottle costs 16,000 Norwegian Kroner: that's $2700! Anyway, Ole Remfeldt just bought the 25-liter bottle.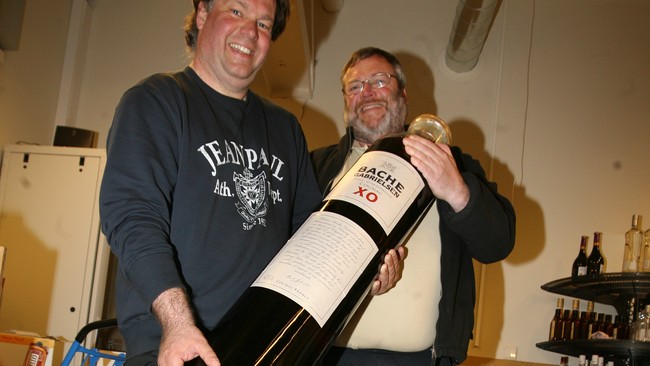 When Remfeldt learned that a bottle had come to Norway he did not hesitate. He teamed up with Jan Aslemand and together they acquired 25 litres of fine XO Cognac – of course Bache Gabrielsen. Hey, this is Norway. Now they own a brandy-giant.
"We are not going to open it and drink it now. Perhaps one night. But it must be a great occasion" said Remfeldt.
Remfeldt describes himself as a hobby collector.  He is sort of into art and antiques, and now he also has a little Cognac bottle in his collection. When asked, if this whole story was not a bit 'out there' and totally exegerated, Remfeld answered "There are other things which cost more".
The fact that there are only six of the bottles, was one of the most interesting arguments for  Remfeldt's decision.
"It's nice to have something that no one else has."
There are so many different Cognacs in Charente, so many different bottles. Not enough choice for Remfeldt. Not big enough for Remfeldt. He needed the real big deal.
See also below the article about Norway and the country's special connection to Cognac.
By the way: Bache Gabrielsen XO won the silver medal at the international Spirit Competition in San Francisco in 2010. Also Silver Medal in 2002, 2004, 2006 and 2008, Double Gold in 2008. And in 2009 the XO received the Award BEST OF CLASS AWARD at New York Spirits Competition.